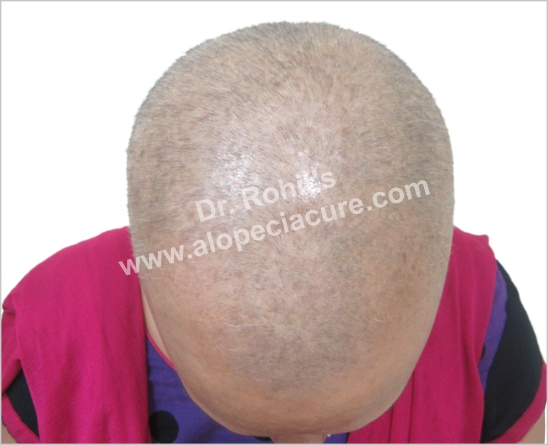 Chemotherapy consists of the administration of drugs that destroy rapidly reproducing cancer cells. Cancer cells are some of the most rapidly reproducing cells in the body but other normal cells (such as hair follicles) which contribute to the formulation of hair shaft and nails are also rapidly reproducing. Unfortunately chemotherapy preferentially destroys cancer cells but also affects normal cells and hair follicles too. This causes hair loss also known as
Anagen effluvium
type of alopecia. Not all chemo therapy drugs cause hair loss, sometimes hair loss is so slight and hardly noticeable. in other cases there may be temporary, partial or complete baldness. The amount of the hair loss depends on the drug, dosage and basic nature of the individual patient. Hair loss usually starts within a few weeks after starting chemotherapy, although it can start within a few days. Re-growth may take 6-12 months but returning hair may be different than what is lost. There are chances of white hairs, different colour hairs, poor texture, thinning of the hair or permanent loss in some cases. Dr Rohit's natural therapy protects hair follicles from the side effects of chemo therapy and it also helps to re-grow new hair.


How Dr. Rohit's Natural therapy does help in Chemotherapy related hair loss ?
An Ayurveda is the traditional medical science of India, which originated over 5,000 years ago. Many natural treatment options mentioned in ancient Ayurveda books as a treatment for different types of hair loss. Dr Rohit's Natural treatment is based on Ayurveda and Naturopathy concepts which help to slow down balding process. Since 1900, Alopecia Treatment Centre is providing 100% natural treatment options for global patients.

Chemotherapy Hair Loss Natural Treatments
The treatment contains topical applications like natural oils and natural paste. Entire therapy is free from any side effects but results can be variable in every individual. In few cases, re-growth was also noticed with the help of natural treatments but not in all cases. Natural therapy definitely helps but perfect pharmacological action is yet not known.

Interested in Dr. Rohit's Natural Treatment?