Know More About Female Hair Loss & It's Best
Natural Treatments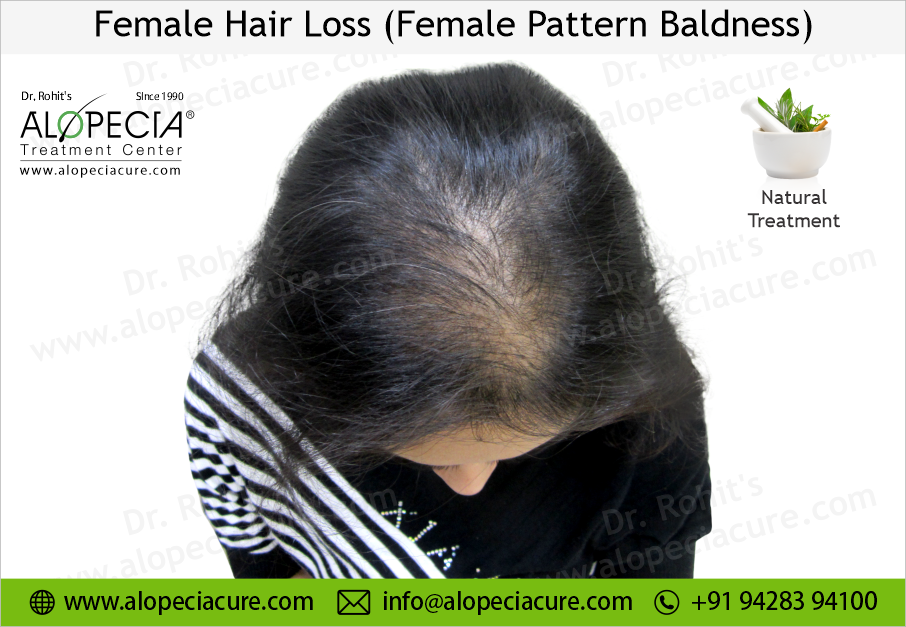 A typical pattern of partial baldness can be seen in menopausal females which is known as Female pattern baldness (FPB) OR Female pattern hair loss (FPHL). FPB can affect women in any age group but more commonly, it occurs after menopause or at pre menopausal stage. Female hair loss process is not constant. It is not uncommon to have excess hair loss for 3-6 months, followed by periods of stability lasting 6-18 months. Progress of FPB can be variable in each individual. For females, to look good is to feel good so hair loss causes psychological distress and depression especially for menopausal females. In most cases, FPB is known as permanent type of changes. The chances of re-growth are always poor with any medical treatment. There are thousands of commercial products available in the market but most of them are known as placebo treatments.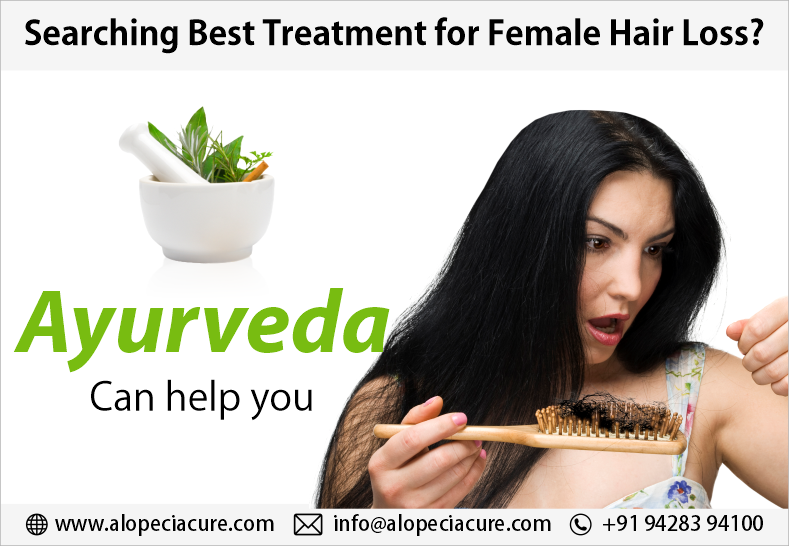 No commercial product which is approved as 100% cure for female pattern baldness. Conventional doctors are using topical minoxidil, finasteride, vitamin pills, laser treatment, PRP treatment etc. However modern treatment does not give permanent recovery in such type of hair loss and it has side effects too. Minoxidil has been proved less effective and it has some adverse reactions like burning of the scalp, erythema, scaling, pruritis, dermatitis, tissue damage etc. PRP treatment is too costly and also gives temporary re-growth only. Vitamin supplement will not help , unless you are deficient in certain vitamins. Hormone replacement therapy is unlikely to reverse the hair loss.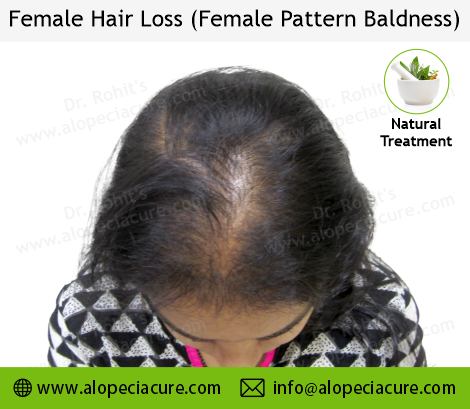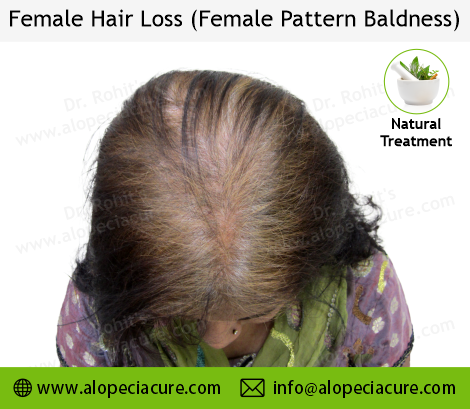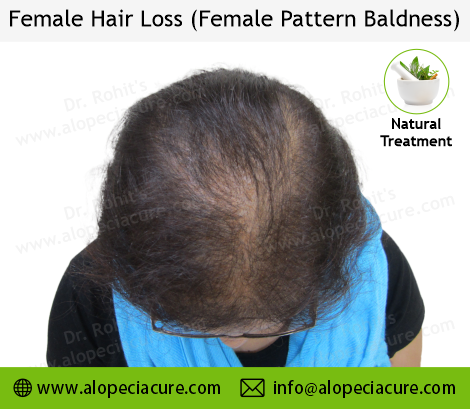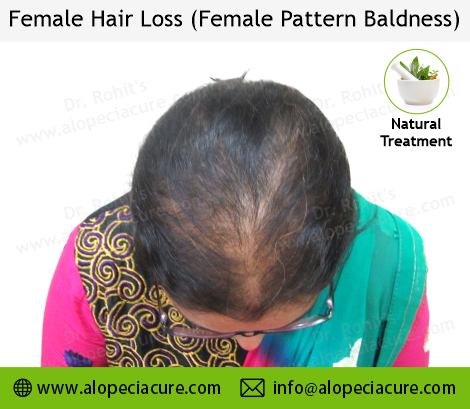 What is Ayurveda and Naturopathy? Why Dr. Rohit's natural treatment is better compare to other options? Which oils & herbs are used in the treatment of Female hair loss?
Using Ayurveda and Naturopathy concepts, Dr. Rohit Shah has developed a highly effective and 100% safe topical natural treatment which has given new hope for those who are suffering from stressful condition named Female Pattern Baldness. After graduation in Ayurveda, Dr. Rohit started research on which are the best natural treatment options for various types of Hair loss. During his clinical practice, Dr. Rohit Shah successfully treated global patients with customized topical natural treatments. The beauty of Dr. Rohit's treatment is no oral or injectable medications to deal with Female Pattern Baldness. Dr. Rohit's website https://www.alopeciacure.com/ is working as a successful cyber clinic since 1990.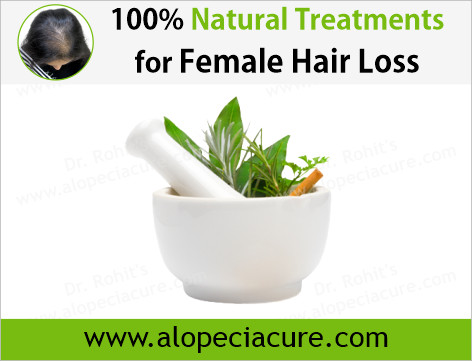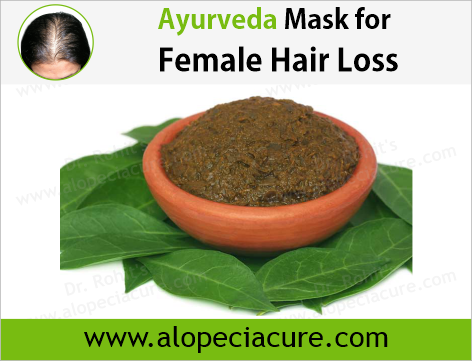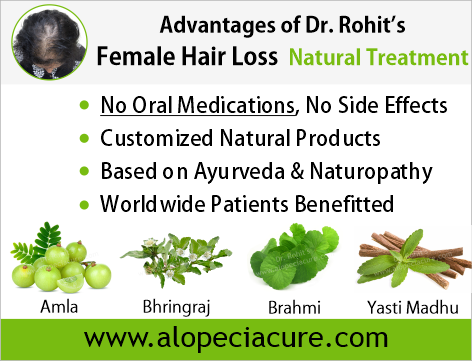 Ayurveda is the traditional medicine of India, which originated there over 5,000 years ago. Ayu means "life" and Veda means "science." Ayurveda means the science of life. Ayurveda and Naturopathy are alternative medicine that focuses on holistic approach for treating the disease. The concept of Dr. Rohit's treatment is based on Ayurveda and Naturopathy books. The treatment is completely customised for every individual. The products are prepared according to history given by the patient, types of alopecia, age, gender, weather of the country etc. The treatment contains natural oils, extracts and mask. Applications are very convenient that anyone can use it at home. The mode of application does not disturb office hours. The products do not contain any perfume, fragrance or colours. The products are prepared at a registered Ayurveda pharmacy under the strict norms of Ayurveda. The main oils and herbs used in the treatment are..Sesame Oil, Coconut oil, Motiya (Jasmine), Amla (Emblica officinalis), Bhringaraj (Eclipta alba), Gotu kola (Centella asiatica), Brahmi (Bacopa monnieri), Licorice, Musk root (Nardostachys jatamansi), Nutgrass (Cyprus rotundus), Indrayan (Citrullus colcynthis) (Bitter apple), Indian licorice (Gunja) (Abrus precatorius), Daru Haridra (Berberris asiatica), Bala (Sida cordifolia), Karanj (Pongamia glabra), Neem (Azadirachta indica), Bakuchi (Psoralea corylifolia) and few other ayurveda herbs. Topical Ayurvedic herbs and oils are effective to stimulate hair follicles and have proven a safe and better alternative to cope up with Male Pattern Baldness. However the exact pharmacological action of these herbs and oils are not yet known.