Trichotillomania
and Dr. Rohit's Natural Treatments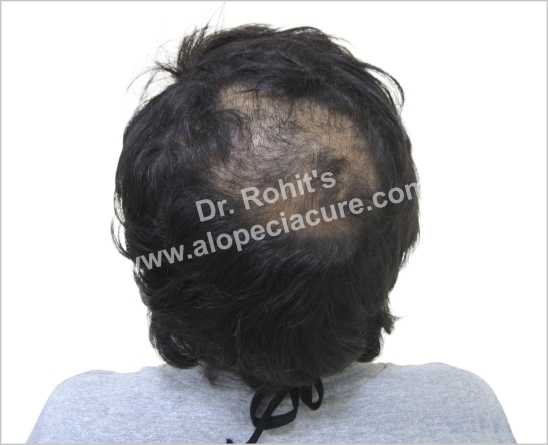 This type of hair loss is known as compulsive pulling or repetitive pulling of hair by a patient himself/herself.
Trichotillomania
is a disorder characterized by the non-cosmetic pulling of hair, resulting in significant hair loss. The name is derived from the Greek terms for hair (trich), pulling (tillo), and morbid impulse (mania). Trichotillomania occurs more frequently in young women and is commonly associated with considerable distress. Hair is most commonly pulled from the scalp, eyelashes, eyebrows, beard, and pubic area, though hair from any part of the body may be pulled. Hair pulling may be transient, episodic or continuous and its intensity can fluctuate. Weeks and months may pass with a person being nearly or completely free of hair pulling, only to have a sudden and unexplained recurrence. Like any condition, there is a range of severity. For some, hair loss may be minimal, for others, cosmetic damage may be extensive, even to the point of total baldness. There are many specific experiences that can lead to individual episodes of hair pulling. Troublesome emotions like anxiety, tension, anger, and sadness may increase the tendency to pull hair. Hair pulling typically occurs during sedentary and contemplative activities during which the hands are free and the mind is otherwise occupied. Hair is often pulled absentmindedly, while involved in another activity like reading, talking on the telephone, driving or watching television. There may also be times of the day when the risk of pulling is greater. Many people pull in the evening and late at night when they are alone, tired, or trying to fall asleep.


How Dr. Rohit's Natural therapy does help in Trichotillomania ?
An Ayurveda is the traditional medical science of India, which originated over 5,000 years ago. Many natural treatment options mentioned in ancient Ayurveda books as a treatment for different types of hair loss. Dr Rohit's Natural treatment is based on Ayurveda and Naturopathy concepts which help to slow down balding process. Since 1900, Alopecia Treatment Centre is providing 100% natural treatment options for global patients.

All About Trichotillomania
The treatment contains topical applications like natural oils and natural paste. Entire therapy is free from any side effects but results can be variable in every individual. In few cases, re-growth was also noticed with the help of natural treatments but not in all cases. Natural therapy definitely helps but perfect pharmacological action is yet not known.

Interested in Dr. Rohit's Natural Treatment?