Traction Alopecia
and Dr. Rohit's Natural Treatments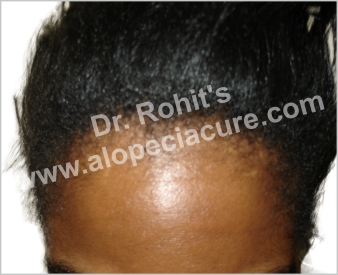 Hair style that tie hairs so tight can cause much traction at the root can develop traction alopecia. The simplest cure for traction alopecia is to avoid such hairstyles that cause tension in the root of hair. The prognosis of traction alopecia is always good if treated earlier but once traction alopecia has set in, there is no perfect treatment. This form of hair loss is commonly seen in African females due to certain hair styles or braiding pattern and in India, Sikh religion men who constant wearing of a turban.


How Dr. Rohit's Natural therapy does help in Traction Alopecia ?
An Ayurveda is the traditional medical science of India, which originated over 5,000 years ago. Many natural treatment options mentioned in ancient Ayurveda books as a treatment for different types of hair loss. Dr Rohit's Natural treatment is based on Ayurveda and Naturopathy concepts which help to slow down balding process. Since 1900, Alopecia Treatment Centre is providing 100% natural treatment options for global patients.

All About Traction Alopecia
The treatment contains topical applications like natural oils and natural paste. Entire therapy is free from any side effects but results can be variable in every individual. In few cases, re-growth was also noticed with the help of natural treatments but not in all cases. Natural therapy definitely helps but perfect pharmacological action is yet not known.
Interested in Dr. Rohit's Natural Treatment?